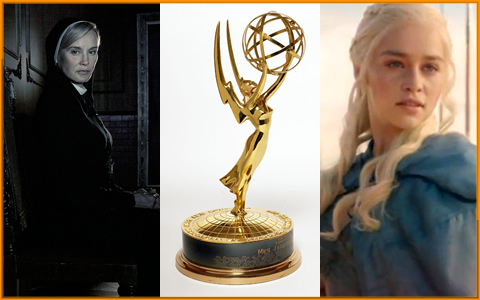 Esta mañana fueron anunciadas las nominaciones a los premios Emmy que entrega la Academia de Televisión estadounidense a lo mejor de la televisión de ese país. La miniserie de antología de FX, "American Horror Story: Asylum" lideró las nominaciones con 17 candidaturas: seguida de la serie de fantasía de HBO, "Games of Thrones" con 16; y de la película para la televisión de temática gay, "Behind The Candelabra", también de HBO.
"American Horror Story: Asylum" logró posicionar nominaciones dentro de las categorías más importantes de su área. Entre las que cuentan Mejor miniserie o película para la televisión y Mejor actriz de miniserie para Jessica Lange como la hermana Judy. Zachary Quinto, James Cromwell y Sarah Paulson lograron nominaciones en las categorías de reparto.
En la categoría de Mejor serie de comedia no hay muchas sorpresas respecto al año anterior, se repite el plato la tres veces ganadora "Modern Family", acompañada de la terminada "30 Rock", "The Big Bang Theory", "Girls", "Veep" y "Louie", que no estuvo nominada el año pasado.
En Drama las nominaciones cuentan con la ganadora del año anterior "Homeland" acompañada de las veteranas "Breaking Bad", "Downton Abbey", "Games of Thrones", "Mad Men" y la debutante "House of Cards" de la tienda en línea Netflix. Cabe destacar que no hay series de televisión abierta nominadas en esta categoría.
Dentro de los nombres que destacan en las categorías de actuación encontramos a Vera Farmiga, nominada por su trabajo en "Bates Motel". La actriz anteriormente había sido nominada a un Oscar. Entre las novedades encontramos a Kerry Washington por "Scandal" y a Connie Britton por la serie debutante "Nashville", que trata sobre la vida de un grupo de artistas de country en la ciudad del mismo nombre. Britton ya había sido nominada en tres ocasiones anteriormente. De "House of Cards" se hacen presentes Kevin Spacey y Robin Wright, ambos conocidos por sus carreras en la pantalla grande. Para el deleite de los fans, Bryan Cranston y la pandilla de "Breaking Bad" se quedan con cuatro categorías en actuación, más una por serie dramática. Mientras que el elenco adulto de Modern Family casi es nuevamente es nominado en su totalidad. Eric Stonestreet (ganador en dos ocasiones, la última el año pasado) quedó fuera de su categoría.
A nivel de canales, HBO lideró con 108 nominaciones, seguido por CBS y NBC con 53 nominaciones cada una. Continuando con la supremacía del cable frente a la televisión abierta.
A continuación los nominados en las categorías principales:
MEJOR SERIE – DRAMA
"Breaking Bad"
"Downton Abbey"
"Game of Thrones"
"Homeland"
"House of Cards"
"Mad Men"
MEJOR ACTRIZ DE SERIE – DRAMA
Connie Britton, "Nashville"
Claire Danes, "Homeland"
Michelle Dockery, "Downton Abbey"
Vera Farmiga, "Bates Motel"
Elisabeth Moss, "Mad Men"
Kerry Washington, "Scandal"
Robin Wright, "House of Cards"
MEJOR ACTOR DE SERIE – DRAMA
Hugh Bonneville, "Downton Abbey"
Bryan Cranston, "Breaking Bad"
Jeff Daniels, "The Newsroom"
Jon Hamm, "Mad Men"
Damian Lewis, "Homeland"
Kevin Spacey, "House of Cards"
MEJOR ACTOR DE REPARTO DE SERIE – DRAMA
Bobby Cannavale, "Boardwalk Empire"
Jonathan Banks, "Breaking Bad"
Aaron Paul, "Breaking Bad"
Jim Carter, "Downton Abbey"
Peter Dinklage, "Game of Thrones"
Mandy Patinkin, "Homeland"
MEJOR ACTRIZ DE REPARTO DE SERIE – DRAMA
Anna Gunn, "Breaking Bad"
Maggie Smith, "Downton Abbey"
Emilia Clarke, "Game of Thrones"
Christine Baranski, "The Good Wife"
Morena Baccarin, "Homeland"
Christina Hendricks, "Mad Men"
MEJOR SERIE – COMEDIA
"The Big Bang Theory"
"Girls"
"Louie"
"Modern Family"
"Veep"
"30 Rock"
MEJOR ACTRIZ DE SERIE – COMEDIA
Laura Dern, "Enlightened"
Lena Dunham, "Girls"
Edie Falco, "Nurse Jackie"
Tina Fey, "30 Rock"
Julia Louis-Dreyfus, "Veep"
Amy Poehler, "Parks and Recreation"
MEJOR ACTOR DE SERIE – COMEDIA
Alec Baldwin, "30 Rock"
Jason Bateman, "Arrested Development"
Louis CK, "Louie"
Don Cheadle, "House of Lies"
Matt LeBlanc, "Episodes"
Jim Parsons, "The Big Bang Theory"
MEJOR ACTOR DE REPARTO DE SERIE – COMEDIA
Adam Driver, "Girls"
Jesse Tyler Ferguson, "Modern Family"
Ed O'Neill, "Modern Family"
Ty Burrell, "Modern Family"
Bill Hader, "Saturday Night Live"
Tony Hale, "Veep"
MEJOR ACTRIZ DE REPARTO DE SERIE – COMEDIA
Mayim Bialik, "The Big Bang Theory"
Jane Lynch, "Glee"
Sofia Vergara, "Modern Family"
Julie Bowen, "Modern Family"
Merritt Wever, "Nurse Jackie"
Jane Krakowski, "30 Rock"
Anna Chlumsky, "Veep"
MEJOR MINISERIE O PELÍCULA PARA LA TELEVISIÓN
"American Horror Story: Asylum"
"Behind the Candelabra"
"The Bible"
"Top of the Lake"
"Phil Spector"
"Political Animals"
MEJOR ACTOR – MINISERIE O PELÍCULA PARA LA TELEVISIÓN
Michael Douglas, "Behind the Candelabra"
Matt Damon, "Behind the Candelabra"
Toby Jones, "The Girl"
Benedict Cumberbatch, "Parade's End"
Al Pacino, "Phil Spector"
MEJOR ACTRIZ – MINISERIE O PELÍCULA PARA LA TELEVISIÓN
Jessica Lange, "American Horror Story: Asylum
Laura Linney, "The Big C: Hereafter"
Helen Mirren, "Phil Spector"
Sigourney Weaver, "Political Animals"
Elisabeth Moss, "Top of the Lake"
MEJOR ACTOR DE REPARTO – MINISERIE O PELÍCULA PARA LA TELEVISIÓN
James Cromwell, "American Horror Story: The Asylum"
Zachary Quinto, "American Horror Story: The Asylum"
Scott Bakula, "Behind the Candelabra"
John Benjamin Hickey, "The Big C: Hereafter"
Peter Mullan, "Top of the Lake"
MEJOR ACTRIZ DE REPARTO – MINISERIE O PELÍCULA PARA LA TELEVISIÓN
Sarah Paulson, "American Horror Story: Asylum"
Imelda Staunton, "The Girl"
Ellen Burstyn, "Political Animals"
Charlotte Rampling, "Restless"
Alfre Woodard, "Steel Magnolias"
MEJOR REALITY SHOW DE COMPETENCIA
"The Amazing Race"
"Dancing with the Stars"
"Project Runway"
"So You Think You Can Dance"
"Top Chef"
"The Voice"